Business
A business is defined as an organization or enterprising entity engaged in commercial, industrial, or professional activities. The term "business" also refers to the organized efforts and activities of individuals to produce and sell goods and services for profit. It must be done on a continuous basis. When individuals are planning to start any business, it is essential to know about various business constitutions and its advantages and disadvantages, or else it will end up in failure of the business. Opting out the most suitable form of business constitution according to the needs of the stakeholders is must.
The common types of business constitutions are as follows:-

1. PROPRIETORSHIP
2. PARTNERSHIP
3. LIMITED LIABILITY PARTNERSHIP
4. PRIVATE LIMITED COMPANY ETC.
1. PROPRIETORSHIP
A sole proprietorship, also known as the sole trader, individual entrepreneurship or proprietorship, is a type of enterprise that is owned and run by one person and in which there is no legal distinction between the owner and the business entity. A sole trader does not necessarily work 'alone'—it is possible for the sole trader to employ other people.
Advantages
Less paperwork to get started
In sole proprietorship there is no much legal formalities to be carried out to commence the business as a result the paper works will be less.

Easier processes and inexpensive

The steps to be carried out in starting a sole proprietorship concern is simple and the business registration fees are less.


Single business ownership.

In sole proprietorship owner is the boss, there will be no interference in business from others.


More privacy to the financial affairs.

As the owner is the boss, he/she can keep the financial affairs without disclosing it to the public.
Disadvantages
No risk sharing
As the owner is single, there will be no other parties to handover the risk.

Business continuity ends with the death of the owner

If the person who carry out the sole proprietorship dies the continuity of that particular business will be stopped.


Raising capital is difficult.

The raising of funds to perform business operations in sole proprietorship is difficult when compared to other types of business constitution.
2.PARTNERSHIP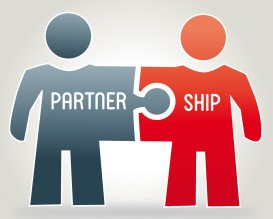 A partnership firm is a business structure in which two or more individuals manage and operate a business in accordance with the terms and objectives set out in a Partnership Deed that may or may not be registered. In such a business, the members are individually partners and share the liabilities as well as profits of the firm in a predetermined ratio.

In India, all the aspects and functions of the partnership are administered under 'The Indian Partnership Act 1932'. This specific law explains that partnership is an association between two or more individuals or parties who have accepted to share the profits generated from the business under the supervision of all the members or behalf of other members.
Advantages
Easy in raising funds
A partnership firm can raise funds from the partners according to the needs of the firm.

Large Resources

A partnership entity should have larger resources in terms of men, money, material, machinery etc. This can be helpful to achieve the pre-determined goals.


Better decisions

Most suitable managerial decisions can be taken in a partnership firm from the various alternatives put forward by the partners.


Sharing Risk

As the partnership firm contains two or more persons the risks can be shared, if any loss happens the intensity of the loss bearded by each partner will be less.


Combination of different skills

As stated earlier, a partnership firm includes two or more individuals, it helps to combine various kinds of skills like leadership skills, financial management skills, planning skills, marketing and customer service skills etc. which can nurture the business firm into development.
Disadvantages
Unlimited liability
Unlimited liability means the owners are personally liable for any loss that business makes, if any faults made by any partner it will affect the entire business.

Loss of Autonomy

A partner cannot act according to his/her interests and tastes in a partnership firm.


Profit sharing

It means the salaries of individual employees go up equally, not on the basis of merit or promotion.


Future Selling Complications

As circumstances change in the future, if one partner wish to sell the business, this could create difficulties if other partners are not interested in selling.


Lack of Stability

Any misbehavior or unwanted actions from the part of any partners can lead to instability of the business.
3. LIMITED LIABILITY PARTNERSHIP (LLP)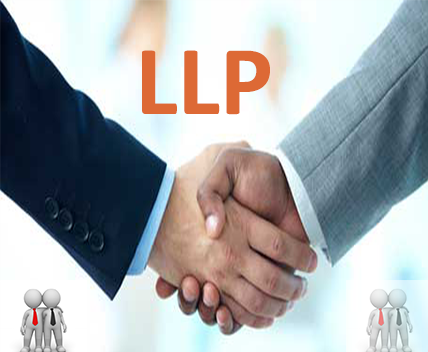 In Limited Liability Partnership liability of each partners are limited unlike traditional partnership. Which makes clear that in LLP, one Partner is not liable for misconduct of another partner. LLPs restrict liability by making sure that the personal assets and belongings of the partners do not get involved in the payment of debts inherited by the company. This makes them a more secure form of investment for entrepreneurs as it reduces the risk that they have to take. While the company has several partners, no individual is kept liable for the actions of others, and this clears them of having undue responsibility for the conduct of others.

Limited Liability partnership is one of the latest model of business entity. Which was introduced by way a new act called Limited Liability Partnership Act 2008.This mode of entity has the benefits of Private Limited and Partnership.
Advantages
Limited liability
In LLP firm the liabilities are limited and a partner is not responsible for the negligence of another, hence a partner is not liable for any losses incurred by the company.

Flexibility in internal structure

There is no constraints in leaving and entering into an LLP we can state that LLP firms are flexible in its internal structure.


It is a seperate legal entity

If a business is a separate legal entity, it means it has some of the same rights in law as a person.


LLP can rise funds from partners, banks and Non-banking financial corporation

LLP firms can find funds from its partners, banks and non-banking financial corporations like Muthoot finance ltd, bajaj finserv, power finance corporation ltd, etc.


No compulsory auditing required up to the turnover of 40 lakhs

For an LLP no compulsory auditing is needed up to the turnover of 40 lakhs.


Minimum two partners and no maximum limit for the partners

The minimum partners needed to commence a LLP firm is only two and there is no maximum limit for the partners to added.


Partners have the right to manage business directly

Unlike the company shareholders, in LLP the partners have right to manage the business directly.


Perpetual succession

It means the ability of LLP allows it to continue with its business regardless of possible partner change.


Foreign nationals can become the partner in LLP

A person who is not the citizen of India can be a partner in LLP.
Disadvantages
Penalty for non-compliance
LLP have to conduct auditing if the turnover goes above 40 lakhs, carry out proper income tax return filing, keep proper books of accounts etc. if the LLP entity failed to comply these requirements government can take necessary actions.

Profit cannot be retained in the same way as a company limited by shares

No retained earning can be kept in LLP same way as a company limited by shares.


Inability to have equity investment

A LLP cannot raise funds for the business through equity investment.


Greater penalties

If the related authorities found guilty that the LLP or the partners in LLP misusing or disregarding the rules LLP act,2008 will be liable to pay huge penalties. Some of the offences under the LLP act,2008 can be:

Using word LLP or Limited liability partnership in improper ways.


keeping up to the rules and agreements made under this act.


Breaching of designated partners, liabilities of designate partners and changing the names of designated partners.


Constraints in transfer of ownership If a partner wants to transfer his/her ownership rights then he/she has to obtain consent of all the partners.
4. PRIVATE LIMITED COMPANY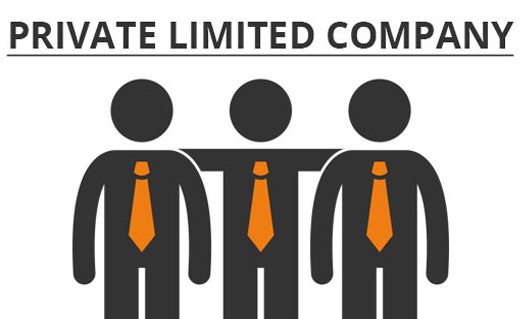 A private limited company is a business entity that held by group of people. It is registered to achieve the pre-determined objects and owned by a group of members called shareholders. The liability of the members of a Private Limited Company is limited to the amount of shares respectively held by them. Shares of Private Limited Company cannot be publicly traded.

Private limited company is the simplest and very popular form of business registration in India and all around the globe. It can be registered with a minimum of two people. Ability to raise funds, limited liability protection to shareholders, separate legal entity status make it the most recommended type of business entity millions of small medium-sized businesses that are family owned or professionally managed.
Advantages
It is a separate legal entity
If a business is a separate legal entity, it means it has some of the same rights in law as a person.

Perpetual succession

It means if any of the partners leaves the business remains constant.


Easy to rise funds

A private limited company can raise funds easily by issuing shares.


Effective tax planning can be possible

There are many legally permissible ways to reduce tax for a private limited company. Some of the ways are as follows: -


Give salary to directors


Depreciation on assets


Rent expenses


Preliminary expenses


Entertainment expenses


Sitting fees to directors
Limited liability for the members
The liability of the members in a private limited company is limited or in other words the status of being legally responsible only to a limited amount for debts of a company.
Disadvantages
The company can be expensive to establish
A private limited company have to complete more paper works at the time of starting it can be more expensive.

It cannot issue its prospectus to public

A private limited company is prohibited from inviting public to subscribe to their shares and thus cannot issue a prospectus.


Financial affairs are public

A private limited company has to disclose its financial affairs to public.


Directors are personally liable for the company's debts

If directors failed to meet their legal obligations, they will be personally liable for the debts of the company.


In stock exchanges shares cannot be quoted

A quoted share refers to a share that can be bought and sold on a particular stock market, here the shares of a private limited company cannot be quoted in a stock market.


Number of members in any case cannot exceed 200

The number of members in a private limited company does not 200 in any circumstances.
Read more...
---